Hong Kong tour companies and hotels are reporting a big downturn in business from mainland China, and other countries, as the ongoing civil unrest plunges the tourism industry into crises.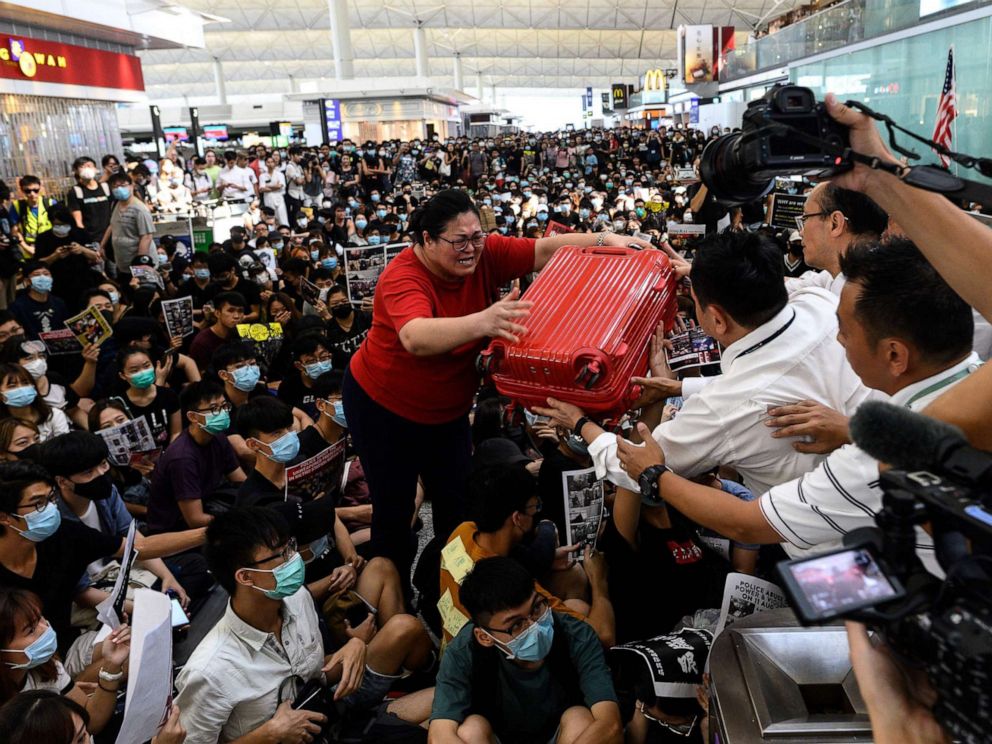 A tourist gives her luggage to security guards as she tries to enter the departures gate during another demonstration by protesters at Hong Kong's International Airport on Aug. 13, 2019. (Philip Fong/AFP/Getty Images)
TV images of clashes between pro-democracy protesters and armed police have been beamed into homes around the world over the past few weeks.
The Federation of Hong Kong and Kowloon Labour Unions reports an average 74% drop in mainland China tour group business, Travel Mole reports.
As many as 42% saw a drop of more than 90%, according to a survey of nearly 1,000 tour guides.
About 100 said they conducted no tours at all throughout June and July.
Overall, there was a 31% drop in tourist arrivals in early August, said Hong Kong's commerce secretary Edward Yau Tang-wah, as well as significant declines in hotel occupancy.
The protests, now in their 10th week, have become progressively more tense with hotel chains seeing both their share prices and occupancy rates fall by double digits.
Hong Kong lawmaker Yiu Si-wing says major chains are advertising rates at 40-50% less than normal.
"The recent travel advisories and warnings issued by several countries have caused some cancellations from our overseas leisure, group and corporate guests," said a Shangri-La Group spokesman.
"We have also seen a decline in the number of local patrons coming to our restaurants and outlets."
The good news for holidaymakers willing to take a risk is those plunging hotel room rates.